Since 2014 the Wellington North Farmers Market has proven to be a very popular attraction and has grown to become one of the best Farmers Markets in Wellington County. The Market has become a common weekly meeting spot for many of our residents and a large part the success is due to the contribution of Harry Engel, who has been our Market Manager since the beginning. The market is held Saturday mornings from 8:30am – noon in the parking lot at the Victory Community Centre at 320 King Street East in Mount Forest.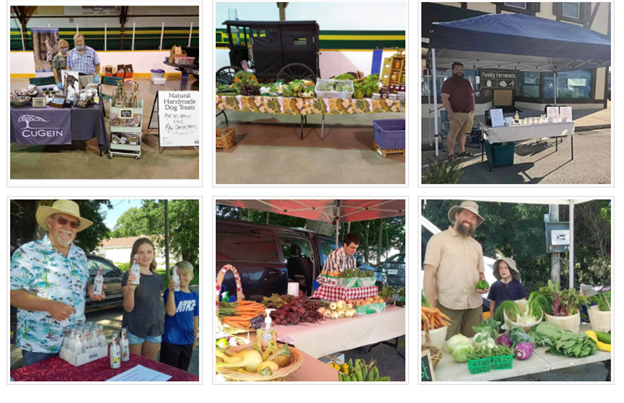 The purpose of the Farmers' Market is to market local farm and agriculture products and to improve production of, stimulate public interest in, and increase consumption of local products. It is also the intent of the market to be community oriented – be dynamic, friendly and reflect our community's personality. A Farmers Market is only as successful as our vendors and we have amazing vendors that came every Saturday with tremendous produce and products. The Wellington North Farmers' Market is strict with our rules & regulations and all vendors must complete an application and sign that they have read and will abide by the rules and regulations of the Wellington North Farmers' Market. Food and produce vendors are also subject to a Public Health application process and possible inspection.
Five local sponsors also support the Farmers' Market including, Forest Physiotherapy, 88.7 The River, MARCC Apparel, Taste Real and the Victory Church who act as the primary sponsor and contribute volunteer hours and venue amenities. We are also a member of Farmers' Market Ontario (FMO) and Pastor Harry, our Market Manager, has completed the required training and has obtained his Market Manager certification from FMO.  
 
In 2022 our Market entered its ninth season and was open from 8:30am until noon from Saturday June 18th to Saturday Sept. 24th.  Additional information as it relates to the Wellington North Farmers' Market can be found at our webpage or by going to our Facebook page.